Next month, Microsoft intends to end its mainstream support of its long-lived browser, Internet Explorer and the IE11 desktop application on Windows 11 will be disabled
However, some applications, particularly those based on Java Applets, only work reliably in Internet Explorer, with Chrome Enterprise users accessing this content via Google's Legacy Browser Support (LBS).
The disabling of IE creates a significant change in the workflow of enterprises that still need to preserve access to these applications. They will now require Microsoft's Edge and Enterprise Mode Site List (EMSL) from June.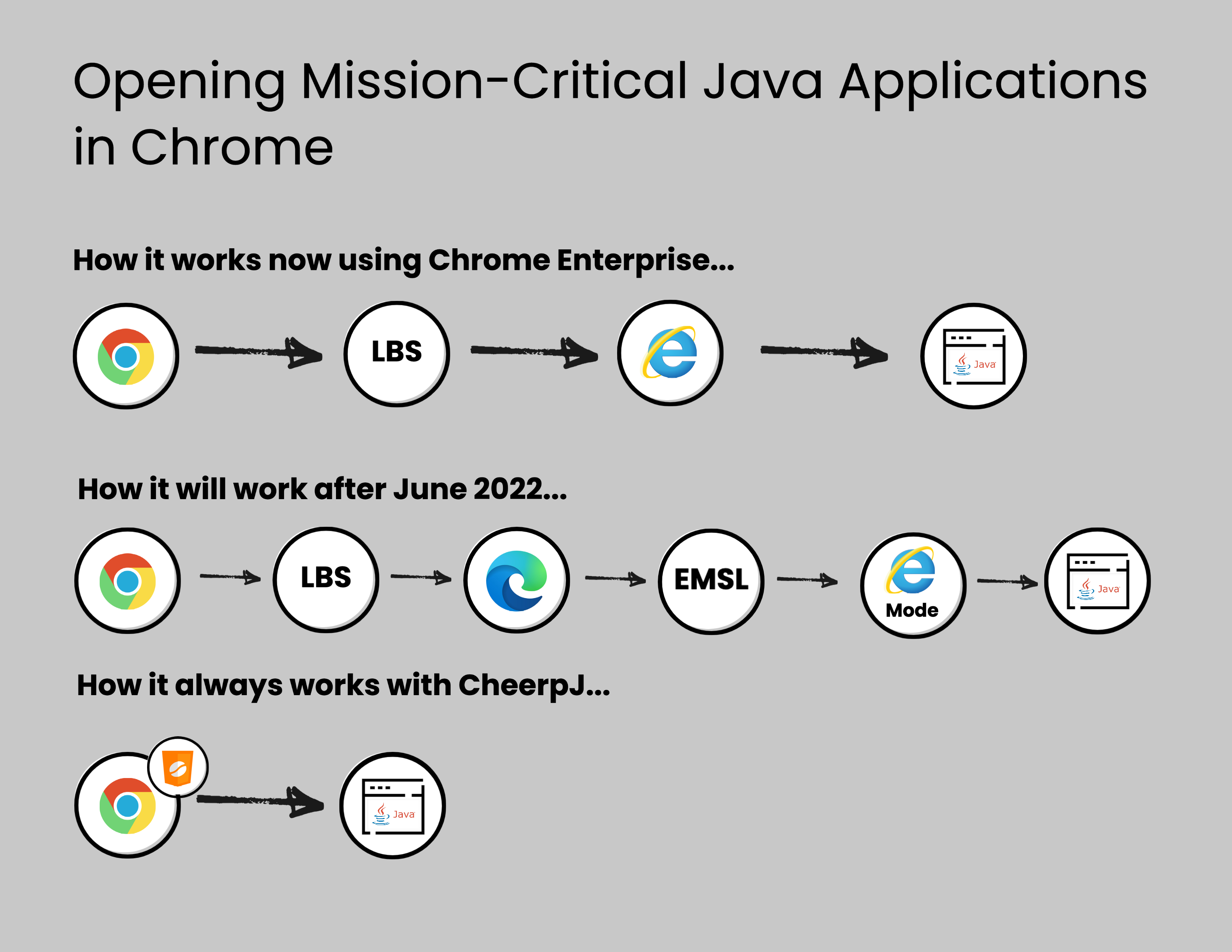 As you can see, our browser-based solution, CheerpJ, removes the need not only for Internet Explorer but also for Microsoft Edge and EMSL.
CheerpJ
CheerpJ is an Enterprise-grade solution to modernise and preserve access to mission-critical Java Applications and Applets after the end-of-life of Internet Explorer.
The CheerpJ Applet Runner is a browser extension for Chrome and Edge to run Java Applets without a Java plugin or installation. It allows you to access Java Applets on Chrome, Edge, Firefox, Safari, or any other modern browser, allowing you to continue using your internal or third-party Java Applet interfaces on modern IT architectures.
The CheerpJ Applet Runner can be used in Enterprise settings and deployed via Global Policy Objects on Edge or Chrome on Microsoft-based enterprise architectures.
4.5 ⭐  – 80,000+ Users 👤
A superb extension with great customer support! We have an large, extensive applet that displays automated weather reports from commercial aircraft– that is used by weather services world-wide.  The CheerpJ version is FAST… We're very happy indeed.

– Bill Moniger, NOAA
Cut-the-knot is a treasure trove of animated math, animated using java. Finally we are able to enjoy the whole website again. Thank you very much to the developers 🙂

– Mathologer Mathematics
Get in touch to find out more!